ProBridge USA
Enhance your Pilates knowledge and credentials with ProBridge.
BASI Pilates is recognized internationally as one of the highest quality Pilates education providers in the industry. For qualified Pilates professionals, the ProBridge Program covers all the material presented in the standard BASI Pilates Comprehensive Pilates Teacher Training Program, packaged in an intensive format and focusing on key differentiators between BASI Pilates and other Pilates schools.
The ProBridge Program consists of 12 modules, with two modules taught per day in an intensive format. Each module includes lectures, discussion, repertoire, and practice time. In the USA these modules are split into two, 6-module programs: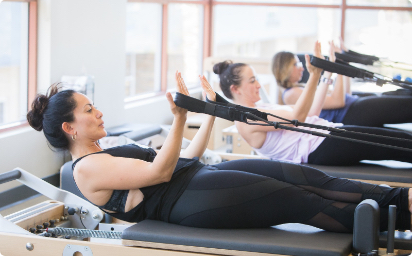 The ProBridge Foundation includes the full Mat Program as well as a thorough introduction to fundamental and intermediate exercises on the Reformer, Cadillac, Wunda Chair, and Ped-a-Pul.
Upon completion of both the ProBridge Foundation and ProBridge Graduate, students are eligible to pursue a BASI Pilates Comprehensive Teaching Certificate by completing the remaining program completion requirements.
ProBridge students walk away from the program with enhanced knowledge and skills, including:
Pilates Method

In-depth understanding of the BASI Pilates approach to the Pilates method.

Provide Cues

Familiarity with the BASI Pilates repertoire taught on the Mat and all apparatus

Block System

Proficiency in the groundbreaking BASI Block System

Gain Confidence

Confidence in working with BASI's proprietary F2 System.

Teach & Demonstrate

Eligibility to take the Pilates Method Alliance NCPT examination, or receive PMA CECs.