Mat Program
Learn to teach up to advanced-level clients on the Mat.
At BASI we regard Pilates Mat work as the "crown jewel" of Pilates.
The Pilates Mat Teacher Training Program is the perfect vehicle for learning the principles of the Pilates Method. It is affordable, easy to integrate into different settings, and a great way to introduce people to Pilates.
The Mat Program provides a thorough education in the Pilates Mat work and its infinite applications. It is also the perfect springboard into the Comprehensive Programs that are offered in the U.S. and globally. The Mat Program is often taught as a part of the Comprehensive Program and is the same curriculum for U.S. and international students.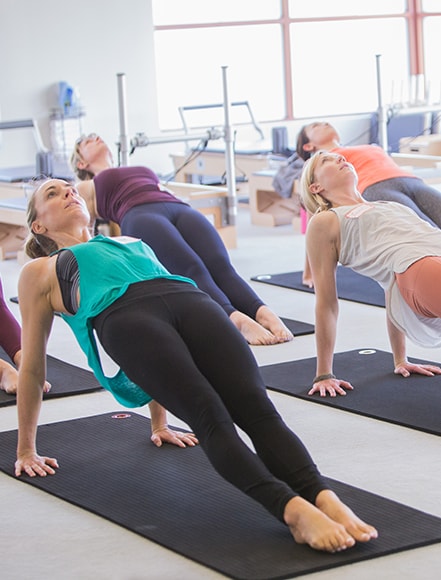 This 6-module program is comprised of 24 hours of lecture, discussion, exercise practice, and exercise analysis.
Alternate formats:
Mat intensive

Mat retreat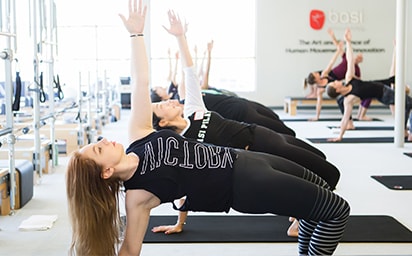 The Mat Intensive Program provides a thorough education in the Pilates Mat work and its infinite applications, but is formatted into a shorter timeframe than the standard Mat Program.
Module 1 - The Fundamentals
Primary concepts covered include the 10 movement principles of the Pilates method, an overview of the pelvic region, Pilates breathing, an historical overview of Pilates, the BASI approach, and the importance of safety when teaching Pilates. Repertoire includes fundamental Mat exercises.
Includes a one-hour Mat class.
What are they saying
Phythian

I feel totally inspired in my Pilates teaching and love every minute of it!

Kristy

I feel like I made the right choice by choosing BASI to study Pilates.

Renata

A wonderful start of the journey to the world of Pilates and teaching.

Annelize

The course content truly empowers a future instructor.

Lauren

The depth of knowledge and community created together in this course is indescribable.

Gail

Becoming a solid teacher is a process of learning and growth, both mentally and physically.

Amy

It was a life-changing experience.

McKenzie

Rael is magnetic, and his passion is beyond inspiring.

Veronika

Learning the BASI approach has been a game-changer in the way I teach and understand Pilates.

Lori

I would highly recommend it to other Pilates teachers looking for a way to gain a deeper knowledge of the work.

Christina

Now that I have discovered BASI, I would recommend it to anyone wishing to pursue a career in Pilates.

Michelle

I am amazed at how much I've learned in just 6 modules!

Robin

I appreciate this ever-changing field and am proud to be a part of BASI.

Kelli

The course was so informative, structured, and useful for my future career!

Felicia

I can not tell you how honored and excited I am to be apart of the BASI Alumni.

Crissy

I think BASI is a leader in the industry and will be proud when I complete my program!

Anonymous

To see all these beautiful people, to be together, to move together, to learn together, I'm so happy that I was there.

Rika

The energy in the room was amazing! Rael just made everyone feel so alive!

Ryan

I'm sad because it's over, but happy, it was an amazing weekend.